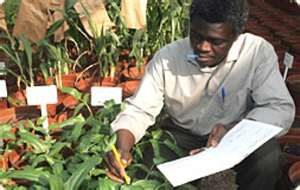 African agricultural experts meeting in Kigali have promised to promote the Integrated Agriculture Research for Development (IAR4D) strategy in transforming agriculture in the region.
The forum that drew participants from Tanzania, Sudan, DRC, Uganda, Kenya, Madagascar, Ethiopia, Burundi, Eritrea and hosts Rwanda, aims at sharing experiences and good practices to support small scale farmers through partnerships.
IAR4D is a mechanism approved by agriculture ministers from various African countries, who recently met in Accra, Ghana, as an effective strategy in the transformation and development of agriculture.
The approach aims at bringing all stakeholders in the sector under one umbrella to ensure effectiveness so as to make adequate impact to people's lives.
They include researchers, extension providers, development agents, the private sector, policy makers, donors, farmers and consumers, among others.
"Since the system brings together every key player, it makes sure farmers benefit from activities of these parties, thereby improving output that also increases earnings," said Berhane Okubay who is representing Eritrea.
The Deputy DG of Rwanda Agricultural Board in charge of Research, Dr. Daphrose Gahakwa, highlighted the steps the government has taken to insure effectiveness in the chain of agriculture transformation and promotion.
"Public institutions have been merged, including those in charge research, extension and livestock, to come up with RAB," Gahakwa said.
She explained that currently, the teaming-up has greatly improved performance since responsibility is collectively owned.
The Director for Agricultural Research in Africa, Prof Wale Adekunle, told The New Times that the system would address the gaps in agricultural development.
He explained that the new structure enables current technological advancement and innovations to reach farmers.