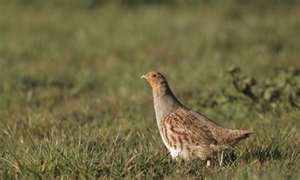 The birds' rapid decline in numbers attributed to intensive farming, urbanisation and failure to sustain fragile populations
you have never heard the lilting song of the linnet, spotted the distinctive plumage of a goldcrest, or waited for the whirring wings of a grey partridge, it is increasingly unlikely that you ever will.
These once common farmland birds, along with many others, including the meadow pipit, lesser spotted woodpecker and nutcracker, are now at their lowest levels across Europe since records began, according to a survey.
The birds' rapid decline is attributed to intensive farming, urbanisation, encroachment on habitats, and failure to sustain fragile populations. The grey partridge has declined by 90% in the UK alone, and the linnet by 57%. Over the past 30 years farmland birds have suffered more threats than most of the wildlife in Britain: they are now the most endangered avian group in Europe. The figures come from the Pan-European Common Bird Monitoring Scheme, which looked at population figures for 145 of the most common bird species in 25 European countries between 1980-2009.
Jenna Hegarty, policy officer at the RSPB, said: "We know farmland birds have halved in number in the UK since the 1970s, but these shocking figures show the story's the same across Europe.
"This is no coincidence – the one thing that [Europe's] farmed landscapes have in common is they are all shaped by the common agricultural policy [CAP]. This policy has helped farmers to produce more food, but wildlife has suffered."
The RSPB is calling for sweeping CAP reforms, so that more effort goes towards rewarding good conservation practice by farmers.
To read the entire article, visit: TheGuardianOnline | by Fiona Harvey