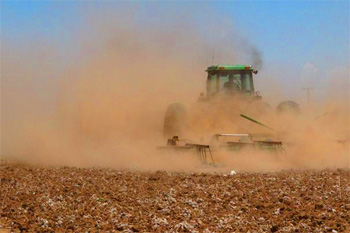 This decade thus far has mirrored the 1930s weatherwise and otherwise. It's the 'Dust Bowl Days' and the 'Great Depression' resurrected in a new generation of misery.
Now, the 'bad news.'
The southern Great Plains, from Kansas southward into Texas, saw its hottest July on record in 2011. Many wells and reservoirs have run completely dry in the region, especially in Texas, where some weather stations, as of this Aug. 11 writing, haven't seen even a drop of rain since last October.
Crop losses in Texas may approach $3 billion this year due to the driest year since at least 1936. Neighboring Oklahoma's drought and heat losses will undoubtedly top $2 billion. Kansas has already exceeded $1 billion in losses to just the 2011 hard red winter wheat crop alone, not counting the mounting losses to corn, soybeans and milo.
Dallas, Texas, as of Aug. 11, had 41 afternoons with triple-digit temperatures in a row. This was just one day shy of matching the all-time record of 42 consecutive afternoons of 100 degrees or above from June 23 to Aug. 3 in the blistering summer of 1980, 31 years ago.
Oklahoma likewise saw its hottest July on record with an average 'mean' temperature of 89.1 degrees, topping the 88.1 degrees set in July of 1954 and the 88.0 degree reading in July of 1980.
The searing heat has also caused 'rolling blackouts' in recent days in parts of the Deep South from Texas eastward into Louisiana, Mississippi, Alabama, Georgia, the Carolinas and Arkansas, where Fort Smith hit an all-time record high of 115 degrees last week. The use of electricity this scorching summer of 2011 east of the Rockies has likewise set records due to the soaring usage of air-conditioning and refrigeration.
Ironically, again like during the 1930s, the early 1950s and the early 1980s, areas south of I-70 in the U.S. experienced an exceptionally cold, frosty and snowy winter of 2010-11, a prime example of our prolonged cycle of wide weather 'extremes.'
The most frigid 12-day stretch in 70 years in mid-December of 2010 killed at least 400 out of the 5,000-plus manatees (sea cows) in Florida, due to record cold water temperatures in the chilly upper 50s. Cold-blooded geckos and alligators perished by the thousands.
Many states from Texas east to Georgia and Florida declared 'States of Emergency' due to the record cold last December.
One night shortly before Christmas saw the mercury stay well below 28 degrees, the danger-level for oranges, tomatoes and other sensitive crops, for an amazing 10 straight hours, unprecedented to say the least in central Florida.
Temperatures in the drought-plagued Rio Grande Valley in South Texas plunged to all-time lows near the zero mark in mid to late December of 2010. Citrus and vegetable crops were ruined by the extreme cold southward into northeastern Mexico. For nearly three months, fast-food restaurants like McDonald's and Burger King were unable to provide tomatoes with their hamburgers due to severe shortages. Orange juice futures soared by more than 60 percent in just a few weeks.
Will these same regions of the U.S., currently beset by record heat and drought, see a fourth consecutive colder than normal winter season in 2011-12 despite a 'dead' La Nina?
If the bitterly cold winter in the Southern Hemisphere is any indication, there will be more record snows and hard freezes deep into Dixie by this December or January, again more 'extremes.'
I'll review the current winter 'Down-Under' in next week's installment of 'Gems.'
North Idaho weather review
By extreme contrast to the exceptionally wet and cool spring of 2011 in the North Country, the mid-July through mid-August summer season thus far has been warmer than normal and nearly rainless.
Our gardens are making great progress in this warm and sunny weather pattern, which has also been nearly 'perfect' for all types of outdoor activities.
But, this extended dry spell has made the fields and forests extremely dry in the region. I'm not worried about running out of water like the folks in Texas, but the threat of forest and brush fires is increasing by the day without significant precipitation.
Longer-term, Randy Mann and I are still expecting the strong ridge of high pressure over the Inland Empire to hold its 'stationary' position, providing more warm and dry weather well into the fall of 2011, this despite some isolated thunderstorms and showers, mostly over the mountains to the north and east of our valley locations.
The weather for this year's edition of the North Idaho Fair and Rodeo still looks good with afternoon highs in the mid 80s and lower 90s and nearly cloudless skies. There is only a slight chance of an afternoon or evening thundershower due to the heat factor.
Cliff Harris is a climatologist who writes a weekly column for The Press. Email sfharris@roadrunner.com.