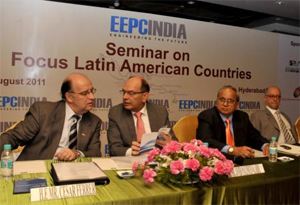 Mexico, Peru, Uruguay and Paraguay seek to cooperate in IT, oil & gas and agriculture
Bilateral trade pacts and free trade agreements with countries in Latin America will play a role in increasing trade with India, according to ambassadors from four South American countries.
While assuring support to inbound investments, providing swift clearances and visas, the ambassadors of Mexico, Peru, Uruguay and Paraguay — all football-loving nations — said there is growing interest for cooperation in information technology and other spheres such as oil and gas and agriculture.
During an interactive session hosted by EEPC India (formerly Engineering Export Promotion Council) here, they said headway has been made in some of the bilateral treaties that foster trade.
Mr Javier Paulinich Valarde, the Peruvian ambassador to India, said "if the talks on free trade agreements materialise paving the way for the pact, it would accelerate trade between the two countries." Trade with India is set to hit the $1-billion mark, up from $854 million last year.
There is growing interest in oil exploration in Mexico; Reliance Industries and the Jindals have already set up operations there, Mr Jaime Nualart, the Mexican ambassador, said. He said the stable Mexican peso, a growing middle-class and steady economic growth offer opportunities for new companies. The country is amongst the largest exporters of automobiles, flat TVs and mobile phones, including the Blackberry that most executives use.
Mr Cesar Ferrer, the ambassador of Uruguay, said "Preferential trade agreements will play a role in developing trade. Indian companies could use some of the countries in Latin America as gateways to other markets and also as logistics hubs."
Mr Genaro Vicente Pappalardo, Ambassador of Paraguay, said the country had large hydel power generation projects and a small population of six million, and offered scope in the areas of services and agriculture.
EEPC India has outlined plans to host a mega event in Mumbai next year and representatives from South American countries would be invited to participate in it.