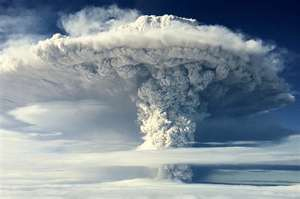 SANTIAGO, Chile – The 100 million tons of pyroclastic ash and rock spewed by an Andean volcano has meant hundreds of millions of dollars in losses for communities more accustomed to profiting from the dramatic mountain landscape.
The Cordon Caulle volcano opened a new gash along a ridge just across the border and upwind from Argentina. For six weeks now, it has been belching ash into the sky, grounding flights across the lower third of South America for most of the winter tourist season. Lodges and restaurants have been ghostly at resorts normally filled with skiers. Airport runways, Andean slopes and sheep and cattle ranches are coated in thick, abrasive volcanic material.
"Every time the wind blows, no matter the direction, we get ash and sand," Villa La Angostura Mayor Ricardo Alonso said.
In his town, a lakeside Andean jewel just northeast of the volcano, only 62 of the town's 152 hotels are operating, and many of the visitors aren't high-paying skiers but volunteers helping to shovel out the mess, Tourism Secretary Juan Jose Fioranelli said, adding that officials are still tallying the losses.
Still mostly missing in the neighboring resort city of Bariloche are big-spending Brazilians, usually so numerous that Argentines jokingly refer to the city as "Braziloche." Bariloche's population of 140,000 usually hosts 250,000 tourists this time of year, including 40,000 Brazilians. The municipal government this week estimated losses at $150 million.
Since the eruption began June 4, the volcano has released energy equal to 70 atomic bombs, or 2 percent of the world's electricity capacity, during the first week alone, scientists at Argentina's National University of Rio Negro calculated. The ash has blown around the Southern Hemisphere several times, grounding jets as far away as Australia and New Zealand.
Airline industry losses could total $50 million, said Helane Becker, an airlines analyst with Dahlman Rose & Company. Carriers with many routes in Argentina, such as state-owned Aerolineas Argentina and Chile-based LAN Air Lines, will suffer most, but U.S. and European carriers also have been affected, she said.
Aerolineas is still flying a vastly reduced schedule, with 30 flights canceled and more than a dozen postponed on Thursday alone due to the continuing ash cloud, which can severely damage jets in flight. All flights to Bariloche remain suspended until at least Tuesday, and flights to two other regional airports through the end of the month.
Argentine agriculture also has suffered. In the hardest-hit province of Rio Negro, which is dotted with sheep and cattle ranches, farm losses total $24 million, said Adolfo Sarmiento, an agricultural engineer at Argentina's National Institute of Agricultural Technology. Wool producers have lost as much as $3.8 million, he said, with ash making grazing difficult for 1,400 operations that manage hundreds of thousands of sheep, cows and goats.