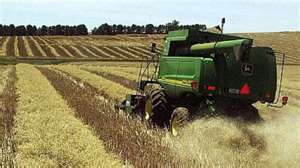 The fund will invest in Australian cropping properties and water entitlements and is targeting $600 million in assets under management.
PrimeAg said on Wednesday that an institutional investor which had requested to remain anonymous had committed at least $125 million and up to $200 million to the fund.
PrimeAg intends to raise $125 million to help capitalise the fund via a non-renounceable entitlement offer.
Under the offer, PrimeAg is offering 10 new shares for every 13 held, at $1.08 each.
PrimeAg shares, which were placed in a trading halt on Wednesday, last traded at $1.28.
PrimeAg said the fund would diversify PrimeAg's earnings. PrimeAg will earn management and performance fees in return for managing the fund.
PrimeAg also said on Wednesday that it had appointed executive chairman Peter Corish as chief executive and that deputy chairman Roger Corbett will become non-executive chairman.
Mr Corish said there was value in the Australian rural cropping property and water entitlement market.
"The Australian agricultural market is currently presenting a number of large-scale rural property cropping aggregations," he said in a statement.
"Additionally, the outlook for the Australian cropping sector is positive, with strong commodity prices coinciding with the most favourable seasonal outlook for some years."
But PrimeAg revised downward the range of its guidance for annual profit before tax, saying that some significant climatic events in Queensland had affected areas where PrimeAg farms, and there was some uncertainty over a $2.1 million flood insurance claim.
PrimeAg revised its prior guidance of an annual profit before tax in the range of $10.5 million to $17 million to a new range of $9 million to $11.5 million.
However, PrimeAg said it may still be possible to achieve its prior guidance range.