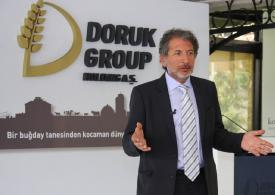 Turkey's leading private wheat producer, Doruk Group, which ended last year with a total of 700 million Turkish Liras in turnover, targets to expand abroad and total $1 billion this year.
The company aims to reap $5 billion in annual turnover by 2020, according to Hasip Gençer, board chairman of Doruk Group, which embodies 12 subsidiaries such as Kumşufırın, Uno, and Dosu Maya.
"We produce and distribute some 25,000 tons of wheat. We continue our production on more than 25,000 acres land," Gençer said. "As of 2011, we started to hold 2 percent of world's wheat trade. We export wheat worth of $125 million."
Within the scope of the target to become a global actor, the company plans to expand its bakery products retail chain, Komşu Fırın abroad, Gençer said. "We aim to create a world-renowned brand."
Doruk Group has 70 percent market share in Turkey's packaged bread sector, Gençer said. "The number of branches of Komşu Fırın, which is currently 55, will increase to 75 by the end of the year."
Doruk Group aims to invest a total of $10 million by the end of the year, Gençer said.
"We also aim to open our yeast production abroad. We aim to establish logistics centers and expand our production to the Black Sea basin."
European countries take the first place in the company's investment plans. "We also are thinking to invest in Russia and the Middle East," Gençer said.
In parallel to the increase in population, agriculture and agricultural production face serious problems, Gençer said. "Food demand across the world increased by 20 percent only in the last one year, while agricultural production increased by only 8 percent," Gençer said. "To be able to meet food demand, the production should be doubled by 2050."