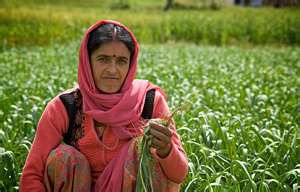 India, the world's second biggest exporter of cotton, could turn into an importer within three or four years because of falling yields, forcing the country's textile mills to compete for supplies with the top importer, China.
Despite rising acreage, India's cotton yields are down to about 475 kilograms per hectare, or 425 pounds per acre, which is 38 per cent below the global average.
Production is limited not just by land constraints and fluctuations in weather and prices, but also by government efforts to push farmers to grow more food over cash crops like cotton, in a bid to limit galloping food inflation.
"The cotton surplus situation in India will disappear in the next three to four years, and mills either have to use expensive imported cotton or opt for man-made fibers," said Sunil Khandelwal, chief financial officer of Alok Industries, the largest textile maker in India by turnover.
Such a scenario would pit India against China, which depends heavily on imports from the US, the world's biggest producer. The two Asian nations together consume 60 per cent of global cotton output.
India's cotton output will reach a record peak of about 6 million tonnes, or 35 million bales of 170 kilograms each, in the year ending in September 2012 before beginning to decline, Khandelwal said.
China is the world's largest exporter of textiles, with a global market share of 28.3 per cent last year, or 6.6 times India's share of 4.3 per cent, Indian government data show.
Indian companies go head to head with China, along with other Asian countries like Pakistan, Bangladesh and Vietnam, in the export of textiles and apparel to Europe and the US.
Chinese cotton consumption in 2010-11 stood at about 10 million tonnes, compared with output of 6.6 million tonnes. China's cotton demand is expected to rise to 13 million tons a year by 2015.
India's cotton demand has risen roughly in line with the country's economic expansion, growine to 4.6 million 2005-6. Consumption by India's domestic textile industry is expected to reach 7.02 million tons by 2019-20, with demand increasing as Indians move away from polyester and as apparel exports surge.
Inevitably, competition for raw cotton between the Asian giants will lead to price volatility in global markets.
"Obviously, there will be a bullish impact on global prices of cotton," said Religare Commodities head (agricultural research) Ajitesh Mullick, adding, "But it is difficult to quantify, as there are many factors, such as demand from the US, Europe, and production of natural fiber in other parts of the world on which prices would depend."
As record prices last year encouraged farmers to plant more of the crop, cotton acreage in India may rise as much as 15 per cent in the year ending in September 2012.
However, trading company Wisdom Cotton chief executive Ritesh Agrawal said the farmers might not get returns as high as they did last year, as prices have cooled since last year. Also, increasing acreage does not automatically lead to higher productivity. "In India, poor harvesting skills and lack of irrigation facilities, coupled with nonavailability of quality seeds, are mainly responsible for low productivity," said Usha Barwale Zehr, chief technology officer of Maharashtra Hybrid Seeds.
In 2001-2, India's cotton production area was 27 per cent of the global total, while production was just 12 per cent of the world total. By 2007-08, the yield had doubled, thanks to the use of higher quality seeds.
Among the major cotton growing countries, Australia tops the productivity charts at 1,579 kilograms per hectare, followed by Brazil at 1,480 kilograms and China at 1,301 kilograms.
India's cotton is handpicked, which limits farmers to sowing only 12,000 plants per hectare. In some areas of China, farmers plant as many as 1,50,000 plants per hectare, and in Australia it is 85,000.
In addition, India's cotton growing areas rely on annual monsoon rains, and growing pest attacks cripple yields.