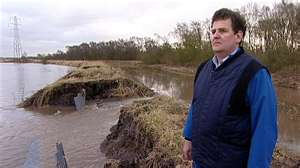 by Rob Pattinson, Ormskirk Advertiser
CROP shortages in the south of England could result in increased prices for West Lancs produce as demand rises.
In East Anglia, crops are failing with recent rain water running straight into rivers as the land is so dry.
Some predictions are suggesting crop yields in the south and east could be down by up to 50%.
One of the immediate effects is that West Lancs farmers are starting to gain extra business exporting haylage to the area.
But as prices are driven up the impact on horse owners in West Lancs could be severe.
Barry Hurst, of West Lancs Haylage, says the company has already started trading to southern farms.
He said: "I sent three artic loads (around 60 tonnes) down south last week and will be doing more this week.
"The demand is going to go up – while at the minute the price is stable at around £35 for a big bale, I've been told some farmers in the south are buying for £66 a bale.
"As we get into the new crop the price will get pushed up as demand from down south increases, and that could mean an increase in prices for this area too.
The cost of the plastic for wrapping the bales has gone up this year too so that could have a knock-on effect."
Barry revealed that the indications are his yield will be lower than usual.
He said: "We've just been mowing and it looks like we'll be about 15 to 20% down on yield, but the quality is good. "The reality is that with packaging prices going up and the supply and demand issue, price increases are looking very likely."
And the expected rise means anyone owning horses could be in for a tricky summer, according to Jean Walsh Wright, of Becconsall Equestrian Centre.
She said: "The big problem is that the poor crop has coincided with people cutting back on riding and other leisure activities due to the credit crunch.
"If prices go up because of the demand from the south then it will make it doubly hard for those in the horse industry to survive."
Jean, who grows around 14 acres of grass for haylage herself but also sources haylage and straw from elsewhere, believes the southern straw crop is also a problem.
She said: "I've been speaking to some farmers in the south of England who have said while their crop is quite good it is short, which means it will have an effect on their straw yield.
"We're just going to have to keep an eye on the situation.
"Anyone in the industry just has to keep going and try and get through it. Meanwhile any new riders interested in coming for a look around the centre are very welcome."