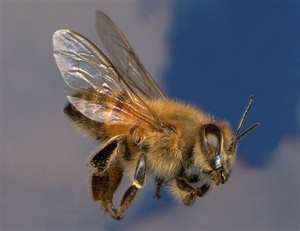 MODESTO – African honeybees attacked a 70-year-old man walking his dogs near Modesto in the first known documented "killer bees" assault north of Madera.
Agricultural officials believe African bees have not colonized north of Tulare County and suspect that the July 5 attack, though savage, was isolated.
"It felt like my head was on fire," said Jack McBride on Saturday, a day after learning that a state laboratory confirmed the identity of the aggressive insects that stung him more than 50 times. "They zeroed in on my head," McBride said. "I couldn't see anything but bees. I was spitting them out, then gritted my teeth so they wouldn't get in. I was afraid they were going to kill me."
McBride was stung inside his nose and on his eyelids, face, neck, armpits and torso. He fell, lost his glasses, tried rolling and finally ran, half-blinded, about one-eighth of a mile to take shelter in a house – bees chasing him the whole way.
European honeybees, crucial for pollinating many California crops, "just don't overdo it like that," said Eric Mussen, a University of California, Davis, apiculturist, or bee expert. He published a report on African honeybees in March, noting that the aggressive species invaded California in 1994 but never moved north of Tulare County.