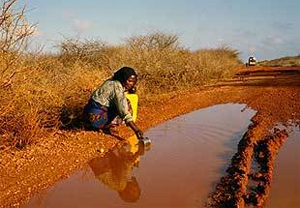 Addis Ababa (AFP) July 11, 2011
The United States on Monday pledged $5 million (3.5 million euros) to assist thousands of Somalis affected by a harsh drought that has hit the Horn of Africa region.
"We are working in a robust fashion … to provide assistance once people become refugees and also studying very carefully what might be done in order to provide assistance to people inside Somalia," Reuben Brigety, the State Department's secretary for refugees told reporters in Addis Ababa.
UN refugee agency chief Antonio Guterres last week appealed for more international help for Somalis devastated by war and drought, terming their plight a humanitarian crisis.
Thousands of Somalis have fled their country in recent months to neighboring Kenya and Ethiopia to seek help.
USAID's deputy administrator Donald Steinberg ruled out working with Somalia's Shebab rebels who last week appealed for help and said they would allow aid through to regions from where they banned foreign relief groups in 2009.
"We cannot provide anything that is interpreted as material support for a group that we consider to be a terrorist organization," Steinberg said.
Steinberg and Brigety spoke to reporters after visiting Ethiopia's Dolo Ado region, where more than 100,000 Somalis are settled.
The US government has since October contributed $368 million in emergency relief for the Horn of Africa, facing one of its worst droughts in decades.